(image: Think Defense)
What will be the trajectory of the group over the next year? What's driving their successes and what will constrain the group's activities?
---
What is the issue?
Despite the Buhari administration's 2015 claim that Boko Haram was "technically defeated," the group's activities remained steady over the past six years. Deaths and incidents are down from their high in 2014 but incidents linked to the group remain an almost daily occurrence, averaging over 227 events each year since 2015. Deaths attributed to the group continue to climb at a steep rate (orange line) with steady month-to-month increases since 2017 (red line, the dip at the end is the incomplete May data). The Nigeria-based news outlet HumAngle commissioned a study that estimated only 4% of terrorist attacks and 60% of fatalities are reported and therefore tracked by groups like the Council on Foreign Relations (CFR). With that in mind, the 227 average balloons to 5,675 events per year with more than 15 events per day.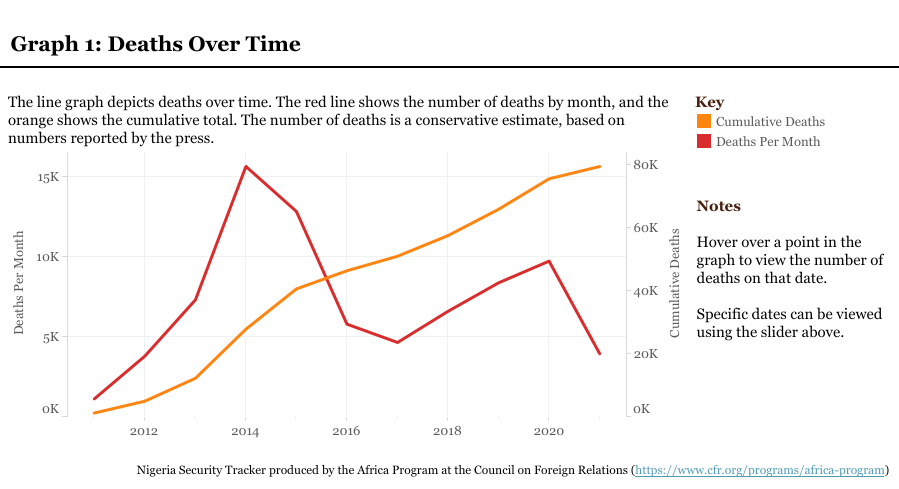 The group has even expanded its territory beyond the original northeastern area into the northwest, and has made forays as far south as Niger and Nasarawa states.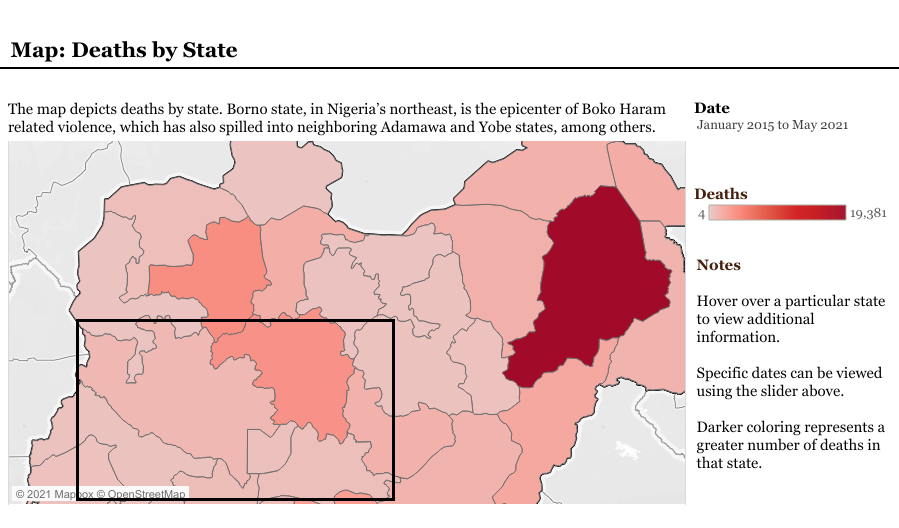 On Twitter, the Governor of Niger State, Abubakar Sani Bello, confirmed Boko Haram had "taken over" Kauri, a town just two hours from the capital Abuja.
Similarly, during a meeting with President Buhari in January, the Governor of Nasarawa state, Abdullah Sule, confirmed the group's activities there.
The terrorists had been dislodged from Toto, where they initially camped, but have regrouped at the Nasarawa/Benue border from where they now launch attacks on residents [in Nasarawa].

Governor Abdullahi Sule
Boko Haram also expanded its affiliations. They recruited organized crime gangs (locally known as bandits) to carry out attacks and abductions. It's similar to the strategy used by Russia and other countries that employ private security firms as a way to achieve strategic goals with less risk (or in the case of Boko Haram less manpower).
Recently, President Buhari walked back his "Boko Haram is defeated" claim. In an opinion piece he wrote for the French news magazine, Le Point, Buhari blamed the COVID-19 pandemic for Boko Haram's "reintroduction" to Nigeria. But he also suggested the group was capable of fighting on multiple fronts, something the overstretched Nigerian military is finding more difficult. "Around the Lake Chad Basin, Boko Haram terrorists took advantage of the pandemic to relaunch an offensive against my country, Nigeria, while launching raids and attacks in Chad, Cameroon, and Niger," wrote President Buhari.
Not only is the group not defeated, but it is also better equipped. Some say better than the Nigerian military, and able to carry out attacks on civilians and military targets without consequence. "Their fighters now have more sophisticated drones than the military and are well-armed after successful raids on military brigades," the NY Times reported.
Why does it matter?
Economy
Since 2011, it's estimated that over 132,372 people1 died and over 2 million have been displaced. This has had a direct effect on the economy as the conflict disrupts production, prevents trade, and deters investment. A study by the International Growth Center estimates conflict intensity like Nigeria's reduces GDP output by 18 percent and GDP growth by more than 4 percent (Tables 3 and 4).2 Another study found the conflict has cost the Nigerian states between 22 and 47 percent of their revenues (McDougal).
Table 3: Conflict Impact on GDP Output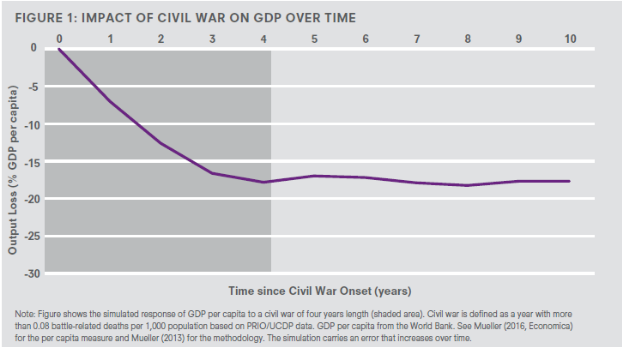 The Nigerian National Bureau of Statistics (NBS) April 2021 report shows consumer prices are up 18% from last year with food prices up by 22% year over year. This is, in part, directly related to Boko Haram—policies to discourage food imports, lack of efficient farming methods, access to markets, and capital also play a role. But Boko Haram intensifies the effect by further reducing the needed labor in an industry that has always struggled to meet demand. Food prices are particularly problematic because 40% of all Nigerians live below the $381.75 per year poverty line (NBS). In the northern states of Sokoto and Jigawa, the poverty rate is over 80 percent.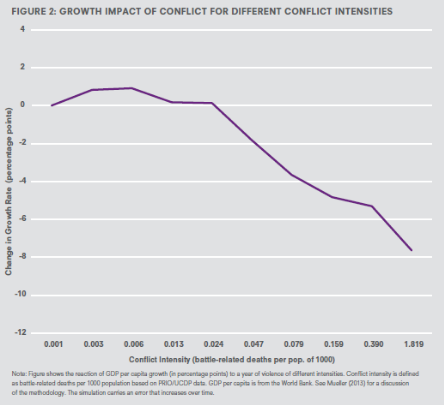 Trust & Legitimacy
Not only has the Nigerian government been unable to keep people safe, but their security forces are also often the perpetrators.3 Their behavior is abhorrent but it's also counterproductive since grievances against the government are one aspect of radicalization.
In a study by Mercy Corps, sympathy for armed groups was directly related to dissatisfaction with the government. "Poor governance that results in injustice, real or perceived, is a key driver of conflict:… when people who feel marginalized begin to believe the government is going to be more responsive, accountable, and fair, support for armed violence and the sectarian groups that perpetuate it decreases," (Mercy Corps).
How did we get here?
Since its formation in 2002, Boko Haram has split into three branches: an Islamic State (IS) affiliate, the Islamic State in West Africa Province (ISWAP), an al-Qaeda (AQ) affiliate, Ansauru—which was dormant until recently, and the independent and more radical Jama'atu Ahlus-Sunnah Lidda'Awati Wal Jihad (JAS), headed by Abubakar Shekau.
Shekau advocates for killing anyone that doesn't follow strict Sharia law—that includes other Muslims and often his own men. The IS and AQ affiliates do not support that view and have clashed with Shekau in the past. In fact, Shekau caused Boko Haram to split.
IS and JAS advocate for creating a caliphate and focus on gaining and holding territory. Al-Qaeda also wants to create a caliphate but is less interested in territory and more focused on attacks (The Hill). For simplicity, I will refer to all of them as Boko Haram.
Boko Haram has been bolstered by an inter-dependency among economic disparities, high unemployment, government corruption and ineffectiveness, low rates of education (especially in the northeast), and inter-communal grievances. While the military is necessary to maintain order during policy implementation, the government has over-utilized the military and under-implemented policies for solving the crisis.
Moreover, the government remains over-reliant on a neglected and possibly compromised security system. Kabir Adamu, a Nigeria-based security analyst, described the military as lacking in basic coordination and planning capabilities. "The security architecture and security strategy of Nigeria, unfortunately, does not have that element of coordination… there are no mechanisms for monitoring and evaluation that would allow anyone to understand what they're doing," Kabir Adamu.
Other conflicts in and out of Nigeria have stretched the military beyond its effectiveness. Not only is it called on to stop Boko Haram in the north but also in the middle belt where mostly Muslim herdsman clash with mostly Christian pastoralists, in the south where the Igbo separatists group, the Indigenous People of Biafra, and its security force, the Eastern Security Network (IPOB/ESN) are active, and outside the country where the Islamic State and al-Qaeda have been gaining momentum.
"Super Camps" Helped Clear the Way for Boko Haram.
In 2018, attacks on towns and military bases were so frequent it pushed the Buhari administration to consolidate soldiers and civilians (sometimes forcefully) into what became known as "super camps." The idea was less of a strategy and more of a reaction to Boko Haram's increasing strength. The plan was to have 20 well-built military redoubts where civilians (mostly internally displaced persons) could live under the protection of soldiers who would be made more efficient by the consolidation—though it wasn't clear how the military would become more efficient.
The effect, however, was the opposite. The strategy essentially withdrew the military from Boko Haram territory giving the group more freedom to operate, necessitated more military patrols, making them easy targets, and reduced the army's ability to respond when needed (The Guardian).
What comes next?
As I was writing this, ISWAP raided the JAS camp and killed its leader Abubakar Shekau (Vanguard). This leaves IS as the strongest extremist group in the region. It's unclear if or how the JAS faction of what was Boko Haram will remain a viable entity – there are still groups in Chad, Niger, and Cameroon that may remain independent from ISWAP. It's also unclear what will happen to the al-Qaeda affiliate Ansauru. It only recently reemerged and does not have as large a following as ISWAP. But Ansauru's strength is its lack of a physical base. It can continue to conduct attacks and attract followers with less risk of reprisals. If al-Qaeda decides to invest in the group it could counter IS' dominance in Nigeria.
Over the next 12 months, VEOs within Nigeria will continue to operate with impunity. The government's long neglect of northern rural areas and its inability to project a presence there has allowed these organizations to become entrenched. Using the region as a base, they can push further south into wealthier urban areas. The Africa Report wrote, "The problem of ungoverned spaces in Nigeria will become more pronounced in urban centers, and non-state actors will take advantage of these gaps to entrench themselves deeper in society."
A recent move by the government is likely to make that easier. According to Sahara Reporters, the Nigerian military is moving some of its troops from the north, where they have been engaged with JAS, to the southeast, to reinforce troops fighting with IPOB/ESN.
What will stop them?
The Buhari administration created two policies that could help counter VEOs. The first was the establishment of a National Center for the Control of Small Arms and Light Weapons (NCCSALW) this May (NTA). SBM Intelligence estimates Nigeria has over 6.1 million weapons in the country (that they know of) but only 586,600 are owned by the security services. Although it will take time to have an effect, the center could help remove millions of weapons from circulation.
The next was Operation Safe Corridors launched in 2016. It was the first major policy to address extremism as something other than a military problem. The goal was to attract Boko Haram defectors and give them a way to transition back into society through reeducation and retraining. A major problem with the program is the difficulty of getting members to defect without a strong economy for jobs.
One other benefit to the government is a potentially large influx of cash. The government is looking for approval of a $3-6 billion Eurobond sale (Africa Briefing). This could be used to address the underlying drivers of extremism, like education, employment, and governance. However, it's more likely to be used to plug budget gaps, pay salaries, and update security forces' equipment and training.
President Buhari was elected in 2015 on a platform to fight corruption, stop violent extremism, and rebuild the economy. In six years, his results have been poor on all three. His agricultural policies to boost domestic production caused the spike in food prices. The "super camps" helped Boko Haram more than civilians. And his fight against corruption has been politicized to punish the opposition.
His All Progressive Congress (APC) party is up for reelection in 2023 (he is not), Buhari will need to show some progress before the election. That's likely to manifest in a flurry of more military engagements against terrorists and separatists, but also in policies and trade agreements to boost the economy. If those policies result in more jobs for Nigerians, that's likely to be a greater constraint on rising extremism than the military.
1 This number was calculated using CFR's cumulative deaths of 79,423 then applying HumAngle's 40% adjustment for unreported deaths. The corrected cumulative deaths are 132,372 cumulative deaths since 2011.
2 To estimate the loss in GDP growth, I used the CFR cumulative deaths for 1 year adjusted up 40% for unreported deaths (9,916 / 0.60 = 16,527) then calculated the number of deaths per 1000 for Nigeria ([16,527 / 201 million] x 1000 = 0.082 deaths per 1000 people for one year) which crosses the IGC threshold for civil war.
3 In 2012, Human Rights Watch documented abuse of civilians at the hands of government security forces sent to help them. The abuses continued and were reported on by the New York Times in 2016, and Amnesty International in 2018.